★★★★★ VALORE AGGIUNTO DEL: 


"DENMARK FISHING LODGE SERVIZIO GUIDA"

Le nostre guide sono del posto, ed hanno molti anni di esperienza.
Siamo costantemente sui luoghi di pesca e conosciamo perfettamente i migliori spot della regione. Diamo i migliori consigli sia a chi pesca a mosca che a spinning. Non ci mancano mai: le migliori mosche e artificiali, una macchina fotografica, un buon pranzo al sacco, thè o caffè caldo. Uniamo all'esperienza la cordialità: crediamo molto in questo mix perfetto!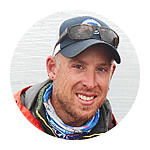 "Oggi si vedono sempre più spesso nuove "guide di pesca" affacciarsi sul mercato. La certificazione di una guida garantisce un alto standard. Le nostre guide sono le più "certificate" di Danimarca…ma anche le certificazioni, oggi, non sono necessariamente sinonimo di esperienza o professionalità assoluta. Una eccellente guida di pesca deve avere qualcosa in più: ciò che noi chiamiamo il "6° senso in pesca", e -cosa più importante- spiccata sensibilità umana e capacità di adattarsi e soddisfare le diverse esigenze di ogni ospite."

Omar Gade – Head guide at Denmark Fishing Lodge
Molti dei nostri ospiti scelgono di prenotare il nostro servizio guida al fine di diventare ben preparati per poi affrontare da soli, la pesca nei giorni successivi. Una uscita di pesca con una guida del nostro Lodge significa acquisire una importante conoscenza sulla pesca alle trote di mare, in brevissimo tempo. Non ci sono mai garanzie di catture, in particolare nella pesca alla trota di mare…però garantiamo che faremo del nostro meglio anche su quello!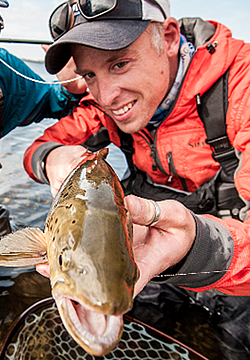 HEAD GUIDE: Omar Bo Gade
(Denmark Fishing Outdoor Lodge, Director & Head Guide)
"The greatest reward for me? The satisfaction in see a pleased and relaxed client after a long, sometimes hard, fishing day…hope to see you on the coast!"
Omar is an I.G.F.A certified Captain/Guide which testifies a high level of knowledge and professionalism. He is a fishing guide certified by the "Danish sport fishing association" and is a member and supporter of the "Federation of Fly Fishers Guides Association".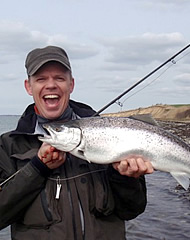 COLLABORATOR GUIDE
Niklas Albrechtsen
(Go-Fishing shop, Odense / Seatroutguidefyn.dk)
"Niklas has been doing a large number of flyfishing courses for seatrout on Fyn and has written articles for the magazine Fiske Feber and several websites. He has been flyfishing for more than 20 years, and has every year a large number of Seatrout to his credit. Niklas has 15 years experience with salmon fishing and has spent a lot of time not only in Mörrum and Iceland, but also in Skjern Å and Varde Å."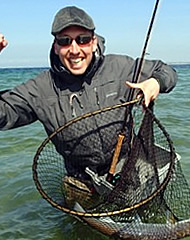 COLLABORATOR GUIDE
Jesper Lindquist Andersen (Go-Fishing shop, Odense)
"Jesper is the guide that can help you whether you are spinning or fly fishing. Among many things, Jesper organizes courses in flyfishing for Pikes, Fly tying, and fishing with bombarda float for the tackel shop Go Fishing, and is the guide who can help you with a trick or two to optimize your fishing on your stay on funen."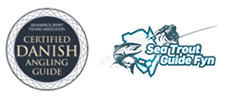 1 GIORNATA PIENA
✔ 8 ore (siamo flessibili) – max 4 persone
✔ pranzo al sacco incluso
(importo da dividere tra i partecipanti)
1 MEZZA GIORNATA
✔ 4 ore – max 4 persone
✔ pranzo al sacco non incluso
(importo da dividere tra i partecipanti)