★★★★★ THE ADDED VALUE OF: 


"DENMARK FISHING LODGE SEA TROUT GUIDING SERVICE"

Professional and certified guides with years of experience, we are on the water constantly and know our fishing spots very well. We will give good advice both to fly anglers and spin anglers. We always bring flies, first aid, fishing gear, camera, and your choice of hot coffee or tea. We combine expertise and friendliness, in a perfect mix.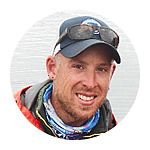 "Today "fishing guides" pop up from time to time. Certifications testifies to a guide professional focus and helps ensure the best fishing trip for you and your family. Our guides are the most certified of the country…but even certifications, today, doesn't guarantee the highest standard of professionalism.
An excellent fishing guide must have something extra: what we call the "6th sense" in fishing, and most important a high human sensitivity and the ability to adapt and meet the different needs of each individual guest."

Omar Gade – Denmark Fishing Lodge
Many of our guests choose to book our professional guides in order to become well prepared to fish on their own! To hire a guide at our Lodge means primarily getting a strong knowledge in short time. There are never catches guarantees in fishing, especially in sea trout fishing…but we will do our very best in order to get you into some fish!!!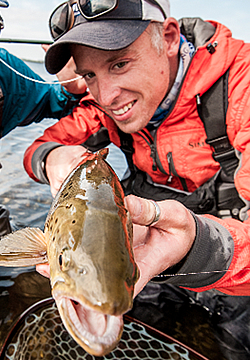 GUIDE: Omar Bo Gade

(Denmark Fishing Outdoor Lodge, Director & Guide)
"The greatest reward for me? The satisfaction in see a pleased and relaxed client after a long, sometimes hard, fishing day…hope to see you on the coast!"
Omar is an I.G.F.A certified Captain/Guide which testifies a high level of knowledge and professionalism. He is a fishing guide certified by the "Danish sport fishing association" and is a member and supporter of the " Fly Fishers International Guides Association".

GUIDE: Jan Nachtigal

(Denmark Fishing & Outdoor Lodge staff member & Guide)
"Release back one of Fyn's beautiful sea trouts caught by one of our guest, is one of the magic moments I enjoy as a guide. Excited to share these moments with you in the future!"
Jan is a truly passionate fishermen. Born in Germany, he fished all over the world traveling with his fly rod and his backpack. He fished the coasts of Fyn since his childhood, and today is one of the best guides we have here on Fyn. Jan is a team member of our Lodge, always ready to welcome you with a smile. He is member of the Fly Fishers International guides association. Photo: @ahrexhooks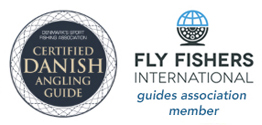 1 FULL DAY
✔ 8 hours (we are flexible on schedules) – max 4 person
✔ includes lunch
(Price is total for the day – to be divided among participants)
(the price for non-residents at the lodge is 3499 dkk)
HALF DAY
✔ 4 hours – max 4 person
✔ lunch not included
(Price is total for the day – to be divided among participants)
(the price for non-residents at the lodge is 2499 dkk)